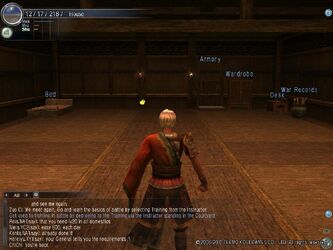 Your Quarters is where your character begins the game after log on, and where your character returns after a conflict of any sort.
All Quarters start out with a Bed, an Armory, a Wardrobe, a Desk and your War Records. Your Lieutenants are also found here.
At your door, you may select which plaza you wish to move to, and set the default plaza for ease of access. Whilst you are below the rank of guard, the door will automatically take you to the Musou Dojo to make it easier to continue your training.
Players you "befriend" may enter your quarters and view the contents of your Wardrobe, Armories, Awards Chest, etc. They can also view your War Records. You may also visit the quarters of your friends.
Quarters Expansion
Your quarters may be expanded through the Antiques Dealer, increasing capacity for furniture, armories and the amount of people inside at once. Otherwise, you may remodel your quarters through the Antiques Dealer, changing the face of your home.
Initial House
Maximum players inside = 10
Maximum furniture space = 50
Maximum armories = 6
First Expansion
A room is added both sides to make your quarters 3 rooms large. Cost: 1000AP
Maximum players inside = 25
Maximum furniture space = 100
Maximum armories = 10
Second Expansion
A room is added in the back to make your quarters 4 rooms large. Costs: 1800AP
Maximum players inside = 50
Maximum furniture space = 150
Maximum armories = 14
Third Expansion
A room is added to both sides to make your quarters 6 rooms large. Costs: 3500AP
Maximum players inside = 50 (no increase)
Maximum furniture space = 200
Maximum armories = 18