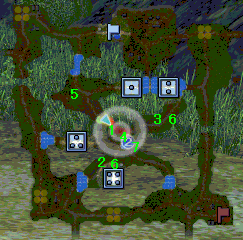 | | |
| --- | --- |
| Quest Grade | C |
| Quest NPC | Marshal |
| Time | 11:56 |
| # of Players | 2 |
| Major Domestic | Military |
| Minor Domestic | Distribution |
| Damage needed? | No |
The objective for this map is to kill 1000 enemies combined between both players before time is up. To achieve an S rank you must achieve a combined total kills of 1329 or above. Teamwork and long reach weapons are recommended.
The enemies will appear in wave sequences. The order is listed numerically on the screenshot. You should have at least one person go to the spots where the soldiers will appear ahead of time in order to get all the kills. The other person should be cleaning up the previous spot. There are lots of crossbow soldiers, and you can't skip them if you want to get an S rank.
There is a total of 1385 troops among those "official" troop. You can get some extra KOs by killing "unofficial" troop: those yellow troops and the enemy supply base, but it's not recommended unless 1 person is very good at KOs and the other has a fast speed weapon.