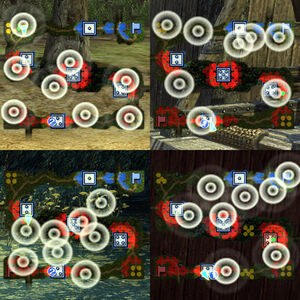 | | |
| --- | --- |
| Quest Grade | B |
| Quest NPC | Bar Manager |
| Time |  ??:56 |
| # of Players | 2 |
| Major Domestic | Technology |
| Minor Domestic | Commerce |
| Damage needed? | No |
The job is to find as many bugs as possible. You find them by running around don't have to capture bases or kill random troops. Each time you do this quest there are 4 different possible "scenarios" that the game chooses from. Each scenario has bugs in different places and the screenshot above shows the location of the 8 extremely rare bugs in each possible scenario.
The rare bug seems to be able to move around, so if you are not fast the bug will be at the area different from what the map shown.
The job is to find as many bugs as possible. You find them by running around don't have to capture bases or kill random troops. There are also hidden paths in the map where bugs will also be located. There are many different types of bugs to catch and each is worth different amount of points. When time is up both player's total points are calculated to determine the rank
Bug point list

| | |
| --- | --- |
| Bug Type | Points |
| Bug | 1 point |
| Somewhat rare bug | 3 points |
| Rare bug | 5 points |
| Beating up a competitor and stealing his bugs | 5 points |
| Very rare bug (See screenshot for locations) | 7 points |

1. Use weapons that have 140 speed. The player using main path may or may not use a speed scroll +10, but I do and it helps a lot.
2. The other player taking the hidden path should capture base 3 before 6:00. You do not have to stay in the base at this time. You may continue to run around and getting any yellow troops that was not killed. In fact, I suggest to not worry about yellow enemies until each players path has been at least checked once.
3. The least amount of very rare bugs needed to s rank this quest is 1 each player. Also, the reason the paths on the picture stop is because at this point, both players should at least be killing yellow troops and running all over the map if they have not found one very rare bug yet. Just run your heart out, they are there. Also, keep in mind that there is 2 very rare bugs in the hidden path, and 2 on the main path.
4. If each player already has 1 very rare bug and all the yellow troops are gone, only 1 player should be in base 3 collecting extra bugs. The other player can just run around the map. I like to reach base 3 before 3:00 and collect bugs. (Note: Standing still does not do anything in the South, or maybe it does, but when I do stand still, all it helps me do is waste time. As long as there is ping, you are collecting normal bugs.) Running around in base 3 may or may not be useful but I run in circles while the other player runs around the map.