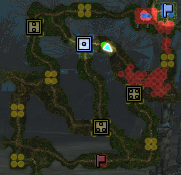 | | |
| --- | --- |
| Quest Grade | D |
| Quest NPC | Bar Manager |
| Time | 7:56 + 10:00 (upon forcing 3 Generals into base) |
| # of Players | 1 |
| Major Domestic | Commerce |
| Minor Domestic | Distribution |
| Damage needed? | No |
When you begin the stage, you will be tasked with taking the neutral base in front of you. Do that and three neutral force generals appear outside the bases. You are then tasked to make the three general enter the captured bases. The only way to do this is to force them into it and at the same time avoid killing them (though they will respawn shortly afterwards if you do manage to kill them in the process). It is best to use a weapon that you can use to launch an enemy, as well as being able to control where they will land. After you complete this the time will be extended.
The three generals (now bandit) will surrender and spawn near the enemy supply base. This is when Wang Po will appear. Wang Po will then ask you to offer 777 soul(defeat 777 enemy), but before you can do that, the three bandits will ask you to help. To do this, you need to defeat the 4 ghost generals around them. As you defeat a ghost general, more enemy troops will appear. Defeat all 4 ghost generals and the bandit will escape. After you defeat the 4 ghost general, a message saying Wang Po has weakened will appear. Ignore that and concentrate on getting 777 KOs. After getting 777 KOs, a message from Wang Po will ask you to challenge him. Defeat him and you will complete the quest. Time does not affect your rank.
Killing one of the bandits in the beginning does not affect your rank.
Rank
Condition
Reward
S
Kill 777+ enemies before defeating Wang Po.
Defeat the 4 ghost generals
Stone x2
Gourd+2 x1
Feather Amulet Flask Recipe
A
Kill 675+ enemies before defeating Wang Po.
Defeat the 4 ghost generals
Stone Belt x2
B
Kill 400+ enemies before defeating Wang Po.
Defeat the 4 ghost generals
Stone Belt x1
C
Kill 300+ enemies before defeating Wang Po.
Save the bandits, defeat the 4 ghost generals,
400 Gold
D
Save the bandits, defeat the 4 ghost generals
Kill less than 300 enemies, before defeating Wang Po.
Don't defeat the 4 ghost generals.
300 Gold
E
Kill less than 100 enemies
Don't defeat the 4 ghost generals
Defeat Wang Po.
200 Gold
Videos