List Compiled by Pan2011 and XiaoFeng.
This is a complete list of all possible origins (or hometowns) for characters in Dynasty Warriors Online.
The list is numbered according to location on the map, starting at the north-west square and moving east on each line. Highlighted is Jian Ye, number 38 on the list.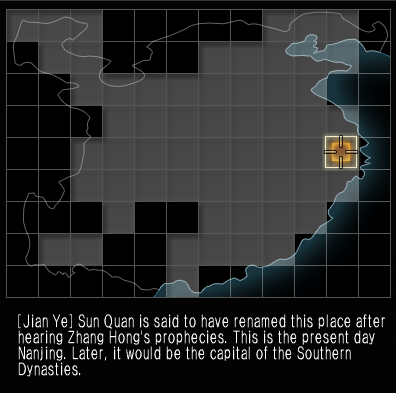 | No. | Chinese | English | EN DWO |
| --- | --- | --- | --- |
| 1 | 敦煌 | Dun Huang | DH1 |
| 2 | 酒泉 | Jiu Quan | JQ1 |
| 3 | 居延 | Ju Yan | JY1 |
| 4 | 雁門 | Yan Men | YM1 |
| 5 | 北平 | Bei Ping | BP1 |
| 6 | 遼西 | Liao Xi | LX1 |
| 7 | 張掖 | Zhang Ye | ZY1 |
| 8 | 武威 | Wu Wei | WW1 |
| 9 | 太原 | Yai Yuan | YY1 |
| 10 | 常山 | Chang Shan | CS1 |
| 11 | 渤海 | Bo Hai | BH1 |
| 12 | 北海 | Bei Hai | BH2 |
| 13 | 東萊 | Dong Lai | DL1 |
| 14 | 金城 | Jin Cheung | JC1 |
| 15 | 天水 | Tian Shui | TS1 |
| 16 | 安定 | An Ding | AD1 |
| 17 | 弘農 | Hong Nong | HN1 |
| 18 | 河東 | He Dong | HD1 |
| 19 | 河內 | He Nei | HN2 |
| 20 | 東郡 | Dong Jun | DJ1 |
| 21 | 琅邪 | Lang Xie | LX2 |
| 22 | 隴西 | Long Xi | LX3 |
| 23 | 武都 | Wu Du | WD1 |
| 24 | 長安 | Chang An | CA1 |
| 25 | 洛陽 | Luo Yang | LY1 |
| 26 | 許昌 | Xu Chang | XC1 |
| 27 | 陳留 | Chen Liu | CL1 |
| 28 | 沛國 | Pei Guo | PG1 |
| 29 | 東海 | Dong Hai | DH2 |
| 30 | 梓潼 | Zi Tong | ZT1 |
| 31 | 陰平 | Yin Ping | YP1 |
| 32 | 漢中 | Han Zhong | HZ1 |
| 33 | 上庸 | Shang Yong | SY1 |
| 34 | 襄陽 | Xiang Yang | XY1 |
| 35 | 穎川 | Ying Chuan | YC1 |
| 36 | 汝南 | Ru Nan | RN1 |
| 37 | 九江 | Jiu Jiang | JJ1 |
| 38 | 建業 | Jian Ye | JY2 |
| 39 | 南安 | Nan An | NA1 |
| 40 | 成都 | Cheng Du | CD1 |
| 41 | 巴西 | Ba Xi | BA1 |
| 42 | 永安 | Yong An | YA1 |
| 43 | 江陵 | Jiang Liang | JL1 |
| 44 | 江夏 | Jiang Xia | JX1 |
| 45 | 盧江 | Lu Jiang | LJ1 |
| 46 | 柴桑 | Chai Sang | CS1 |
| 47 | 吳 | Wu | WU1 |
| 48 | 建寧 | Jian Ning | JN1 |
| 49 | 武陵 | Wu Ling | WL1 |
| 50 | 長沙 | Chang Sha | CS2 |
| 51 | 予章 | Yu Zhang | YZ1 |
| 52 | 会稽 | Hui Ji | HJ1 |
| 53 | 永昌 | Yong Chang | YC2 |
| 54 | 雲南 | Yun Nan | YN1 |
| 55 | 桂林 | Gui Lin | GL1 |
| 56 | 零陵 | Ling Ling | LL1 |
| 57 | 南海 | Nan Hai | NH1 |
| 58 | 盧陵 | Lu Ling | LL2 |
| 59 | 交趾 | Jiao Zhi | JZ1 |